Over the years I've read articles about a small operation on the South Island of New Zealand offering self-flying vacations. I finally got around to checking it out and found it intriguing.
Three years ago, I mentioned it to friends and fellow Bonanza owners Jeff & Kara Wiper. After one sentence of my description Jeff exclaimed: "We're in!" We booked for that January, peak summer season. Then a pesky little virus popped up and pushed our date a year. And another year. And another year. It finally happened this year.
Flyinn NZ (www.flyinn.co.nz) is the brainchild of Matt and Jo McCaughan who manage their 5,500-acre sheep and cattle station and have been dazzling pilots for over twenty years. The photos and videos on their website set very high expectations for an amazing trip but what we experienced was so far beyond, we were pretty much stunned all day, every day for over a week!
Jeff and Kara arrived Queenstown a couple days early like you're supposed to. Nancy and I arrived 11:00am the first day of our tour (long story!). We collected our bags, met Jeff, Kara, and our two guides/CFI's Matt (the owner) and Nick who has been flying with Flyinn for over ten years. Ten minutes out of bag claim we were settled into our two Pen Yan conversion C-172's. Our first flight was a thirty-minute hop to the grass strip at Geordie Hill, Matt & Jo's ranch to get acquainted over a lovely lunch that Jo prepared. Then it was off to another grass strip and a visit to Hayes Engineering, a fascinating farm implements manufacturing works dating back to 1895. One more short hop and we were at Wanaka, our home base for the next week. It's a must-see no matter how you choose to do the South Island. A very cool little town on a huge, pristine lake at the foot of the" Southern Alps". Each couple had a car and a modern apartment a short walk from town. Jo had provisioned both apartments with breakfast goodies, snacks, and refreshments for our stay.
All eight days of our trip were a magical array of glacier peaks dropping straight down to shimmering fjords and beautiful coastlines. Blessed with perfectly calm weather we were able to fly within a wingspan or two of it all.
Day two was a bit overcast but not a problem! We flew southward underneath following the beautiful Kawarau River canyon winding through foothills toward the lower terrain. The weather opened up as we approached the large grass strip at Mandeville Airfield for a visit to Croydon Aircraft Company. We had a delightful visit with owner Colin Smith, wandering among the numerous de Haviland aircraft from WWI on in various phases of restoration. The newly restored Staggerwing was a hit as was the adjacent museum. Continuing south we flew low over the stunning green Southland countryside to the rugged Caitlands coastline. Descending toward the coast I asked Nick to suggest an altitude for flying the beach northeastward to our overnight destination, Dunedin. He left it up to me so 700' it was around the southernmost tip of NZ past lighthouses, cliffs, rocky outcrops, beaches and river outflows. We landed on the ample grass runway of Taieri Airfield, underneath the eastern edge of the Dunedin airport airspace. Dunedin was one of the first cities in NZ, settled by Scotts during a gold rush in the mid-1800's. Built around the Otago Harbour, the city is rich in Scottish, Chinese and Maori heritage. After settling into modern, classy apartments in the historic city center, Matt and Nick hosted us for a great dinner at a local place on the beach. Next morning after a walk enjoying beautiful architecture, we found our intrepid guides at the city's best bakery for our customary flat white and pastry. Then it was off for a harbor tour to view wildlife and enjoy the coast from sea level. Returning to the aerodrome after lunch, it's hard to describe the excitement you feel as you reconnect with your airplane for more amazing terrain flying, but you know what I mean. We headed back up into the foothills of the Southern Alps to our base at Wanaka.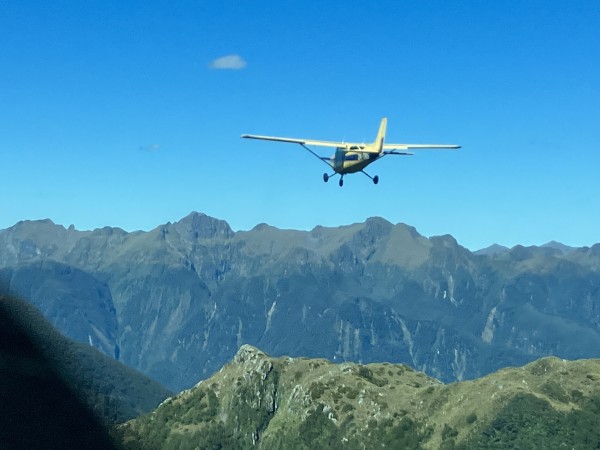 Day four we met at the airport for an early departure north and westward following river valleys up into the rugged Southern Alps. How can you describe slow flying within feet of alpine lakes and glacier peaks in perfectly still air and severe clear skies? Nancy summed it up best when describing the whole experience: "Indescribable". Cresting the last of the glacier rimmed cirques to the west, we descended the valleys to the coast for an early morning beach landing at Big Bay. Nick took the controls for a low pass to look for driftwood, then a touch and go to feel for any grip of the sand. He then handed it over to me with strict instructions to keep the wheels within a few feet of the trees on base leg. Yikes! After enjoying the beach, we flew low down the coast and into Milford Sound to their airport for a walk around the rain forest. After lunch we continued south over Doubtful Sound and numerous other fiords before heading back inland.
Other day trips included Mt Aspiring national Park known as the "Matterhorn of the South" with its stunning alpine lakes and glaciers, and Mt Cook, the highest peak in NZ at over 12,000' and only 20 miles from the Tasman Sea. Every day delighted us with extreme "up close and personal" terrain flying and included lots of cool farm strips. After covering all of the key destinations, we gave Nancy and Kara a day off, and Jeff and I flew with Sue, Jeff and Kara's guide for part of the trip. We practiced stalls, slow flight, engine failures to landing and other maneuvers to attain our NZ CAA validation of our FAA licenses and a sign-off on a NZ BFR and mountain flying endorsement. We probably won't use them soon but boy, do we have bragging rights!
As Nancy says, this trip was truly indescribable. Think about the adrenalin rush you feel after your most amazing flight. And then think of that after two to three flights a day, for eight days. While waiting to board the flight home from Auckland I searched for other self-flying air tours and found one with tours in Australia and France. I sent it to Jeff & Kara who immediately replied: "We're in!".